Business Casual Clothes Beaverton OR
Local resource for business casual clothes in Beaverton. Includes detailed information on local businesses that provide access to clothes, casual clothes, business clothes, women clothing, clothing store, tops, menswear, dress shirts, suits, and information on buying clothes online, as well as advice and content on dress code.
---
GOLF GALAXY STORE
(503) 626-2322
3125 SOUTHWEST CEDAR HILLS BOULEVARD
BEAVERTON, OR
Departments / Services
Club Trade In, golf gps, golfgalaxy, miniature golf courses, hybrids, golf hats, golf outerwear, Reshafting, sunglasses, golf training aids, TaylorMade, shoes, Callaway, replace ferrule, Tommy Armour, golf tees, range finders, golf balls, Ashworth, golf rain gear, golf apparel, Ping, Footjoy, PGA Professionals, golf shorts, irons, Nike, golf skorts, Juniors golf, drivers, golf gloves, Advantage Club, Golf Club Repair, golf clubs, covers, golf spikes, hat, Titleist, golf sandals, Cobra, apparel,
Hours
45.497317 -122.808329


Johnny Patch
web only
8505 SW Apple Way P302
Portland, OR
Data Provided By:
BOOT HILL WESTERN WEAR
001 (503) 648-7925
2139 NORTHEAST CORNELL ROAD
HILLSBORO, OR
Departments / Services
Accessory Retail, shoes, Men Accessories, Clothing Stores, shoes Clothing, Clothing Accessories, Outerwear Work Clothing Retail, Outerwear Work Clothing, Store, Boot Safety Shoes, hiking boots, Accessories, Western Clothing Retail, Mens, Custom Shoes, Accessory, outdoor boots, footwear, Shoe Stores, More Clothing Stores, Boots, shoes Retail
Hours
45.530696 -122.960378


Cagoule Fleece
(503) 295-2663
6635 N Baltimore - suite 132
Portland, OR
Data Provided By:
Tinctoria Designs
(503) 810-9232
4719 NE 28 Ave.
Portland, OR
Data Provided By:
Jade Planet Footwear
(503) 297-2093
3170 S.W. Raleighview Dr.
Portland, OR
Data Provided By:
BANANA REPUBLIC @ SHOPES AT TANASBOURNE
(503) 629-3228
2070 NORTHWEST ALLIE AVE
HILLSBORO, OR
Departments / Services
clothes, Clothing Accessories, mens apparel, Women's Clothing Stores, Accessory Retail, womens apparel, Clothing, Accessory, mens clothes, Clothing Stores, Men's Clothing, apparel, mens clothing, work wear, office wear
Hours
45.536877 -122.878327


EvolTwin Printing
(503) 281-4160
3316 N. Williams Ave.
Portland, OR
Data Provided By:
hazeldrops llc
(503) 616-4688
2135 N Blandena Street
Portland, OR
Data Provided By:
VerdeRocks Jewelry
(877) 4ec-oluv
6107 SE 53rd Ave, Unit 2
PORTLAND, OR
Data Provided By:
Data Provided By:
Fashion party clothing wear casual: What to wear for casual cocktails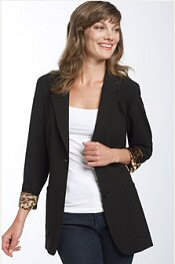 The holidays are here, and the winter party season is in full swing. And every winter, the question is "What to wear?" This is especially true when the invitation says, "Come for casual cocktails."
Whether you want to buy a new outfit or wear one of the classic pieces already in your closet, here are a handful of fashion-forward tips to guide your get-up.
Today's top party styles
"When the invitation says 'casual,' interpretations differ," says Leah Feldon, a Nashville and New York-based fashion expert (leahfeldon.com) and author of Does This Make Me Look Fat?
"Some people will always dress up, while others won't," she says. "Some will read 'casual' and others, 'cocktail.' If you do your basic black with fun accessories, you'll be exactly perfect, either way."
"The one thing you're always safe wearing is basic black. Then jazz it up with accessories. You just can't go wrong with that," she assures.
"Black is essential," agrees Jenny Le of Opening Ceremony, which has stores in New York and just recently Los Angeles (openingceremony.us). Try this versatile Karen Kane Boyfriend Jacket .
Le recommends a few hot items to pick up this winter to turn heads anywhere you go.
"Velvet dresses, high waisted skirts, severe pencil skirts, cashmere cardigans, waistcoats, trenches and Victorian granny high heel boots," Le lists.
Another hot look, she says, is slim tuxedo pants and a chiffon bow blouse, or full trousers or high waisted pants."

Click here to read the rest of this article from Celebrate with Style