Business Casual Clothes Broken Arrow OK
Local resource for business casual clothes in Broken Arrow. Includes detailed information on local businesses that provide access to clothes, casual clothes, business clothes, women clothing, clothing store, tops, menswear, dress shirts, suits, and information on buying clothes online, as well as advice and content on dress code.
---
UNIFIRST CORP.
(918) 251-4334
2100 N. BEECH ST.,
BROKEN ARROW, OK
Departments / Services
UNIFORM LEASING SERVICE, uniform rental, UNIFORM SUPPLIER, industrial uniform, UNIFORM RENTAL SERVICE, RENTAL SERVICE UNIFORM, HIGH VISIBILITY SAFETY CLOTHING, work wear, UNIFORM WORKWEAR, uniforms, CORPORATE WORKWEAR, protective clothing, coveralls, WORK UNIFORM SUPPLIER, workwear, uniform suppliers, SUPPLIER WORKWEAR, UNIFORM, TOWEL UNIFORM SUPPLY SERVICE
Hours
36.072456 -95.817302


ARMOR PERSONAL PROTECTIVE EQUIPMENT, LLC
(918) 376-4299
7726 N OWASSO EXPY STE B
OWASSO, OK
Departments / Services
Safety, Harnesses, Gloves, Glasses, Industrial, Construction, Hard Hats, MSA, Sperian, 3M, Honeywell, Uvex, Howard Leight, Miller, Ultra Safe, Fall Protection, Lanyards, Lanyard, Harness, Revolution, MCR Safety, Traffic, Vest, Jaket, Class II, Class 2, Class III, Class 3, Respirators, Respiratory, Protection, Dust Mask, Dust Masks, SRL, Self Retracting, LIfeline, Barricade, Barricades, Life Lines, Lifelines, Caution, Dadnger, Tape, Reinforced, Leather, Nitrile, Kevlar, Cut, Splash, Resistant, Ge
Hours
36.266851 -95.850037


Goodwill Store
(918) 258-9884
2210 W Washington St
Broken Arrow, OK
Salvation Army Family Store
(918) 451-2424
11495 E 71st
Broken Arrow, OK
Bass Pro Shops
(918) 355-7600
101 Bass Pro Dr Bass Pro Shops
Broken Arrow, OK
ARAMARK UNIFORM SERVICES INCORPORATED
(918) 254-5662
5358 S 125TH EAST AVE
TULSA, OK
Departments / Services
Accessory, Safety Clothing Equipment, Accessories, Clothing, More Industrial Equipment Supplies, Clothing Wholesale Manufacturers, Dealer, Supply Dealers, Cleaning, Outerwear Work Clothing, Repair, Clothing Rental, Accessory Cleaning Repair, Manufacturer, Uniform Rental Cleaning Service, Clothing Stores, Industrial Equipment Supplies, Store, Outerwear Work Clothing Retail
Hours
36.085894 -95.837084


Ashley's + Size Consignment
(918) 872-8585
725 N. Aspen
Broken Arrow, OK
How Foundation Thrift Store
(918) 455-8223
2216 S Aspen Ave
Broken Arrow, OK
Uptown Resales & Consignments
(918) 251-3191
707 W Washington St
Broken Arrow, OK
Marshalls
(918) 355-2886
1400 East Hillside Dr
Broken Arrow, OK
Hours
Sun: 11a - 8p
Mon-Thu & Sat: 9:30a-9:30p
Fri: 9:30a-10p


Fashion party clothing wear casual: What to wear for casual cocktails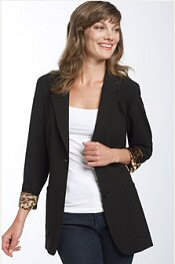 The holidays are here, and the winter party season is in full swing. And every winter, the question is "What to wear?" This is especially true when the invitation says, "Come for casual cocktails."
Whether you want to buy a new outfit or wear one of the classic pieces already in your closet, here are a handful of fashion-forward tips to guide your get-up.
Today's top party styles
"When the invitation says 'casual,' interpretations differ," says Leah Feldon, a Nashville and New York-based fashion expert (leahfeldon.com) and author of Does This Make Me Look Fat?
"Some people will always dress up, while others won't," she says. "Some will read 'casual' and others, 'cocktail.' If you do your basic black with fun accessories, you'll be exactly perfect, either way."
"The one thing you're always safe wearing is basic black. Then jazz it up with accessories. You just can't go wrong with that," she assures.
"Black is essential," agrees Jenny Le of Opening Ceremony, which has stores in New York and just recently Los Angeles (openingceremony.us). Try this versatile Karen Kane Boyfriend Jacket .
Le recommends a few hot items to pick up this winter to turn heads anywhere you go.
"Velvet dresses, high waisted skirts, severe pencil skirts, cashmere cardigans, waistcoats, trenches and Victorian granny high heel boots," Le lists.
Another hot look, she says, is slim tuxedo pants and a chiffon bow blouse, or full trousers or high waisted pants."

Click here to read the rest of this article from Celebrate with Style