Business Casual Clothes Chicago IL
Local resource for business casual clothes in Chicago. Includes detailed information on local businesses that provide access to clothes, casual clothes, business clothes, women clothing, clothing store, tops, menswear, dress shirts, suits, and information on buying clothes online, as well as advice and content on dress code.
---
MENS WEARHOUSE
001 (312) 263-2306
25 EAST WASHINGTON STREET
CHICAGO, IL
Departments / Services
mens apparel, apparel, mens fashions, sport coats, big tall, Clothing Manufacturers, Safety Equipment, Outerwear & Work Clothing, accessories, mens suits, dress shoes, ties, Sale, Supply Dealers, Shoe Stores, formalwear, tux, Men Clothing Retail, Safety Clothing, Mens, Men Clothing, shoes, mens formal wear, mens clothing, mens pants, mens wardrobe, Formal Wear Sales, mens ties, tuxedos, Store, Manufacturer, Clothing Rental, Outerwear & Work Clothing Retail, Clothing Wholesale, Dealer, mens acces
Hours
41.882627 -87.627003


PAYLESS SHOE SOURCE
(773) 254-1846
4707 SOUTH KEDZIE AVENUE
CHICAGO, IL
Departments / Services
girl shoes, women's shoes, Shoes, shoes bogo, boots, footwear, boy shoes, sandals, soccer shoes, cheap shoes, backpacks, children's shoes, bogo, back to school shoes, sneakers, Clothing Stores, ladies shoes, kid's shoes, Shoe Stores, discount shoes, girl's shoes, infant shoes, men's shoes, boy's shoes
Hours
41.807910 -87.703925


CRUCIBLE MATERIALS CORP.
(773) 772-0300
4501 N. CORTLAND,
CHICAGO, IL
Departments / Services
CRUCIBLE, STEEL, CRUCIBLE SERVICE CENTER, CRUCIBLE SERVICE CENTERS, TOOL STEEL, CPM, CPM 1V, CPM S30V, CPM S60V, KNIFE, KINFE MAKER, BLADES, CUTLERY, DATA SHEET, DATA SHEETS, DATASHEET, CASE HISTORY, CASE HISTORIES, METALLURGICAL HELP, QUOTE REQUESTS, PRODUCTS, METALFORMING, METAL FORMING, CUTTING TOOLS, PLASTICS, CPM HIGH PERFORMANCE STEELS, COLD WORK STEELS, HOT WORK STEELS, STAINLESS STEEL, ALLOY STEEL, STEEL FAQ, FAQ, INDUSTRY, GRADE, TOOL BITS, TECH DESK, STEEL PRODUCTS, BUY STEEL, PURCHASE
Hours
41.914645 -87.739345


Verdessence
(773) 286-3200
5205 W. Agatite Ave, Suite 1
Chicago, IL
Data Provided By:
SCHOOLBELLES-SCHOOL UNIFORMS
001 (773) 763-8008
7646 WEST TOUHY AVENUE
CHICAGO, IL
Departments / Services
school bells, schoolbells, school belles, schoolbelles, school uniforms, school apparel, school clothing, school clothes, school uniform companies, school uniform suppliers, elementary school uniforms, grade school uniforms, high school uniforms, plaid skirts, plaid jumpers, uniforms, order uniforms, tops blouses, knit shirts, bottoms, slacks, trousers, skirts, accessories, school accessories, summer uniforms, winter uniforms, school, clothes, clothing sale, uniform sale, Michigan, Illinois, Ind
Hours
42.011407 -87.817777


EMPIRE HARD CHROME, INC.
(773) 762-3156
1615 S. KOSTNER AVE.,
CHICAGO, IL
Departments / Services
plasma source ion implantation, FINISHING, salvage work, plastic molding, reconditioning, grinding, mold polishing supplies, hydraulics, stamping dies, diamond chrome, METAL EXTRUSION, shock absorber, PRESS BRAKE DIES, treatment services, plating, aerospace, CORROSION PROTECTION, forming dies, DRILLING EQUIPMENT, medical machinery, textile machinery, BAKING EQUIPMENT, wear protection, treatment options, agricultural machinery, MOLD POLISHING, PLASTIC EXTRUSION, wearalon, optical flats, roofing r
Hours
41.857999 -87.733788


ARAMARK UNIFORM SERVICES
001 (773) 265-4870
4200 SOUTH HALSTED STREET
CHICAGO, IL
Departments / Services
work apparel, Uniform Rental Cleaning Service, Outerwear Work Clothing Retail, quality uniforms, Clothing Stores, uniforms, shop aramark, wearguard, Industrial Equipment Supplies, Store, Manufacturer, work uniforms, Accessory Cleaning Repair, work clothing, Clothing Accessories, uniform purchase, Supply Dealers, nursing uniforms, uniform rentals, Dealer, uniform shirts, Cleaning Repair, corporate apparel, Safety Clothing Equipment, Outerwear Work Clothing, Clothing Rental, workwear, More Industr
Hours
41.817545 -87.646924


girl skirt mission
(773) 544-3444
Oak Park, IL
Data Provided By:
SCHOOLBELLES
(708) 598-8008
7763 SOUTH HARLEM AVENUE
BRIDGEVIEW, IL
Departments / Services
jackets, school uniform suppliers, duffle bags, grade, summer uniforms, school apparel, bottoms, high schook, private, grade school uniforms, bags, high school uniforms, winter uniforms, belts, accessories, wear, schooluniforms, elementary, clothing sale, kids clothes, schoolbells, school bells, short, headbands, elementary school uniforms, backpack, junior high, childrens, jumper, jumpers, uniforms, tops blouses, walking shorts, student, vests, school accessories, shorts, shirt, school clothes,
Hours
41.733542 -87.799189


MONOGRAMS & MORE
001 (630) 789-8424
33 EAST 1ST STREET
HINSDALE, IL
Departments / Services
caps, screenprinting, washcloths, throws, personalised gifts, bath robes, uniforms, retail, golf shirts, pillow cases, sheets, towels, wholesale, logos, embroider, corporate, fleece jackets, embroidery, t shirts, monograms and more, sewing, embroidering, polo shirts, baby cloths, fleece, bags, shirts, jackets, blouses, duffel, hats, silkscreening, gym bags, sweat shirts, blankets, duffel bags
Hours
41.801936 -87.927767


Data Provided By:
Fashion party clothing wear casual: What to wear for casual cocktails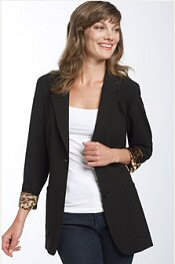 The holidays are here, and the winter party season is in full swing. And every winter, the question is "What to wear?" This is especially true when the invitation says, "Come for casual cocktails."
Whether you want to buy a new outfit or wear one of the classic pieces already in your closet, here are a handful of fashion-forward tips to guide your get-up.
Today's top party styles
"When the invitation says 'casual,' interpretations differ," says Leah Feldon, a Nashville and New York-based fashion expert (leahfeldon.com) and author of Does This Make Me Look Fat?
"Some people will always dress up, while others won't," she says. "Some will read 'casual' and others, 'cocktail.' If you do your basic black with fun accessories, you'll be exactly perfect, either way."
"The one thing you're always safe wearing is basic black. Then jazz it up with accessories. You just can't go wrong with that," she assures.
"Black is essential," agrees Jenny Le of Opening Ceremony, which has stores in New York and just recently Los Angeles (openingceremony.us). Try this versatile Karen Kane Boyfriend Jacket .
Le recommends a few hot items to pick up this winter to turn heads anywhere you go.
"Velvet dresses, high waisted skirts, severe pencil skirts, cashmere cardigans, waistcoats, trenches and Victorian granny high heel boots," Le lists.
Another hot look, she says, is slim tuxedo pants and a chiffon bow blouse, or full trousers or high waisted pants."

Click here to read the rest of this article from Celebrate with Style