Business Casual Clothes Elizabeth NJ
Local resource for business casual clothes in Elizabeth. Includes detailed information on local businesses that provide access to clothes, casual clothes, business clothes, women clothing, clothing store, tops, menswear, dress shirts, suits, and information on buying clothes online, as well as advice and content on dress code.
---
ANN TAYLOR LOFT
(908) 355-5205
651 KAPKOWSKI ROAD SUITE 1022
ELIZABETH, NJ
Departments / Services
women's clothes, Women's Clothing Stores, Clothing, skirts, Store, Accessory, Petites, trousers, Clothing Accessories, Pants, women's apparel, LOFT, Women's Clothing, Dresses, Sweaters, Accessory Retail, Women Clothing Retail, Shirts, Womens, Clothing Stores, blouses, tees, t-shirts, Women Clothing
Hours
40.660587 -74.169796


M721Organics
(908) 810-8796
P.O. Box#2060
Union, NJ
Data Provided By:
JERSEY CITY MEDICAL SUPPLIES
001 (201) 217-9950
369 PALISADE AVENUE
JERSEY CITY, NJ
Departments / Services
Hospital Equipment, Supplies, Supply Retail, Consultation, Respiratory Equipment Maintenance, Mastectomy Fittings, Repair, Hospital Beds, Wheelchairs, Motorized Wheelchairs, Walkers, Diabetic Shoes, Braces, Diabetic Supplies, Pediatric Supplies, Uniforms, Wound Care, Oxygen Equipment, Concentrators, Nebulizers
Hours
40.741389 -74.045983


Miss Wit Designs
(917) 754-4216
553 47th Street
Brooklyn, NY
Data Provided By:
O.K. UNIFORM CO., INCORPORATED
001 (212) 791-9789
368 BROADWAY
NEW YORK, NY
Departments / Services
medical scrubs, nursing shoes, catering jackets, chefs skullcaps, tuxedo jackets, catering apparel, chef wear, chef uniforms, tuxedo pants, mens tuxedo jackets, coveralls, discount scrubs, ladies tuxedo shirts, ladies tuxedo pants, mens tuxedo shirts, security uniforms, catering uniforms, chef pants, restaurant uniforms, chef coats, screen printing, industrial uniforms, anywear shoes, chef jackets, restaurant formal wear, chefs coat, tuxedo shirts, tux, aprons, tuxedo, high visibility clothing,
Hours
40.717467 -74.003014


WORK N GEAR
001 (908) 862-4736
1601 WEST EDGAR ROAD
LINDEN, NJ
Departments / Services
OUTERWEAR WORK CLOTHING, MANUFACTURER, SUPPLY DEALERS, work clothing, MORE INDUSTRIAL EQUIPMENT SUPPLIES, DEALER, SCREEN PRINTING, OUTERWEAR WORK CLOTHING RETAIL, work clothes, work wear and working gear, work uniforms, SAFETY CLOTHING EQUIPMENT, CLOTHING WHOLESALE MANUFACTURERS, shop work gear
Hours
40.611500 -74.249799


PAYLESS SHOE SOURCE
(201) 451-1656
370 MARTN LTHR KNG JR DRIVE # J
JERSEY CITY, NJ
Departments / Services
backpacks, Shoe Stores, footwear, kid's shoes, infant shoes, women's shoes, soccer shoes, discount shoes, shoes bogo, sandals, cheap shoes, sneakers, girl's shoes, ladies shoes, boy shoes, boots, children's shoes, bogo, men's shoes, girl shoes, boy's shoes, back to school shoes, Clothing Stores, Shoes
Hours
40.699686 -74.040550


AMERICAN EAGLE OUTFITTERS
(732) 744-9380
MENLO PARK MALL
EDISON, NJ
Departments / Services
polo, madras, wrap, bucket, denim, music, sandals, visors, clothing, drawstring, bottoms, fashion, jeans, rings, shorts, bikini, utility, Men's Clothing, sweatshirts, chokers, t's, tee shirts, baseball caps, jackets, tanks, original pocket, convertible, print, flare, boot cut, tee's, swim, outerwear, teenager, tees, cropped, belts, bungie, polar fleece, bootcut, clothes, slides, mules, underwear, fragrence, graphics, skirts, dvd, accessories, alive, 5 pocket, hiking, sweaters, Clothing Stores, h
Hours
40.544920 -74.331306


O K UNIFORMS CO INCORPORATED
001 (212) 791-9789
368 BROADWAY
NEW YORK, NY
Departments / Services
tuxedo, coveralls, nursing shoes, ladies tuxedo pants, chef pants, mens tuxedo shirts, chef, medical uniforms, mens coveralls, restaurant uniforms, nursing uniforms, formal tuxedo jackets, chef uniforms, ladies tuxedo shirts, restaurant formal wear, workwear, Carhartt, tuxedo pants, security uniforms, medical scrubs, discount scrubs, industrial uniforms, chefs coat, chefs skullcaps, chef coats, chef wear, catering apparel, nursing scrubs, tuxedo jackets, catering jackets, tuxedo shirts, high vis
Hours
40.717481 -74.003013


American Power Corporation
(212) 966-5851
110 Greene Street
New York, NY
Services
Clothing Stores, Personal Computer Peripheral Equipment
Data Provided By:
Data Provided By:
Fashion party clothing wear casual: What to wear for casual cocktails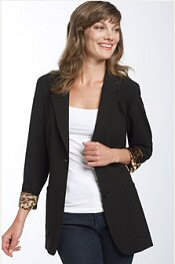 The holidays are here, and the winter party season is in full swing. And every winter, the question is "What to wear?" This is especially true when the invitation says, "Come for casual cocktails."
Whether you want to buy a new outfit or wear one of the classic pieces already in your closet, here are a handful of fashion-forward tips to guide your get-up.
Today's top party styles
"When the invitation says 'casual,' interpretations differ," says Leah Feldon, a Nashville and New York-based fashion expert (leahfeldon.com) and author of Does This Make Me Look Fat?
"Some people will always dress up, while others won't," she says. "Some will read 'casual' and others, 'cocktail.' If you do your basic black with fun accessories, you'll be exactly perfect, either way."
"The one thing you're always safe wearing is basic black. Then jazz it up with accessories. You just can't go wrong with that," she assures.
"Black is essential," agrees Jenny Le of Opening Ceremony, which has stores in New York and just recently Los Angeles (openingceremony.us). Try this versatile Karen Kane Boyfriend Jacket .
Le recommends a few hot items to pick up this winter to turn heads anywhere you go.
"Velvet dresses, high waisted skirts, severe pencil skirts, cashmere cardigans, waistcoats, trenches and Victorian granny high heel boots," Le lists.
Another hot look, she says, is slim tuxedo pants and a chiffon bow blouse, or full trousers or high waisted pants."

Click here to read the rest of this article from Celebrate with Style