Business Casual Clothes Gillette WY
Local resource for business casual clothes in Gillette. Includes detailed information on local businesses that provide access to clothes, casual clothes, business clothes, women clothing, clothing store, tops, menswear, dress shirts, suits, and information on buying clothes online, as well as advice and content on dress code.
---
Value Villa Inc
(307) 682-4134
P O Box 2369
Gillette, WY
Back To The Rack
(307) 685-2322
610 Butler Spaeth Rd
Gillette, WY
Fashion Crossroads
(307) 682-8108
207 S Gillette Ave
Gillette, WY
Data Provided By:
CORRAL WEST RANCHWEAR
(307) 789-4778
1850 HIGHWAY 30
EVANSTON, WY
Departments / Services
clothing, hat, western, boot, wear, cowboy hats, work, hats, boots, work wear, jewelry, cowboy boots, Western wear, apparel, work boots, cowboy
Hours
41.267948 -110.931965


CORRAL WEST RANCHWEAR
001 (208) 677-2046
4519 FRONTIER MALL DRIVE
CHEYENNE, WY
Departments / Services
Western wear, western, wear, work wear, cowboy hats, work boots, apparel, clothing, work, cowboy, boot, boots, hat, hats, jewelry, cowboy boots
Hours
41.159110 -104.801354


Doc Swap Shop
(307) 682-1801
P O Box 501
Gillette, WY
Blue Butterfly Boutique
(307) 682-8500
204 S. Gillette Ave
Gillette, WY
Departments / Services
Formal wear, Bras, Spanx, Women's clothing Day to Evening
Hours
10-6 M-F 10-4 Sat


CORRAL WEST RANCHWEAR
(307) 672-5622
150 NORTH MAIN STREET
SHERIDAN, WY
Departments / Services
work, cowboy hats, hats, apparel, work wear, wear, cowboy, cowboy boots, western, clothing, work boots, boots, Western wear, jewelry, boot, hat
Hours
44.798890 -106.955842


HASCO INDUSTRIAL SUPPLY
307-347-6158, 800-734-3881
P.O. BOX 729,
WORLAND, WY
Departments / Services
WYOMING, saddle accessories, extremes, carhartt, CLOTHING, TSURUMI PUMPS, EXISS, DISCOUNT, SANDSTONE, watches, coats, DRESSEN, bib, FEDERAL MOGUL, VELTS, HONDA ENGINES, NFR, MILWAUKEE, resistant, jackets, wear, KLEIN TOOLS, SOG, NORWESCO TANKS, RIVERTON, SHEAVES, KNIVES, fire retardent, PRCA, Silversmith, AMERICAN, western accessories, fire, LEATHER TRIM, shirts, TRSURUMI, GEORGIA BOOTS, IMPORTING, jewelry, JET TOOLS, HAULMARK, buckles, GATES HOSES, DENIM, EARTH, CATALOGS, KIDS, dickies, ELECTRI
Hours
43.940039 -107.982426


CORRAL WEST RANCHWEAR
(307) 856-6156
727 NORTH FEDERAL BOULEVARD
RIVERTON, WY
Departments / Services
work wear, cowboy boots, jewelry, hat, apparel, boot, Western wear, clothing, cowboy, cowboy hats, work, western, work boots, hats, boots, wear
Hours
43.030886 -108.380630


Data Provided By:
Fashion party clothing wear casual: What to wear for casual cocktails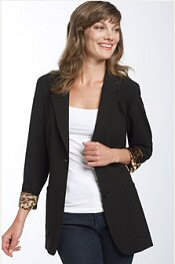 The holidays are here, and the winter party season is in full swing. And every winter, the question is "What to wear?" This is especially true when the invitation says, "Come for casual cocktails."
Whether you want to buy a new outfit or wear one of the classic pieces already in your closet, here are a handful of fashion-forward tips to guide your get-up.
Today's top party styles
"When the invitation says 'casual,' interpretations differ," says Leah Feldon, a Nashville and New York-based fashion expert (leahfeldon.com) and author of Does This Make Me Look Fat?
"Some people will always dress up, while others won't," she says. "Some will read 'casual' and others, 'cocktail.' If you do your basic black with fun accessories, you'll be exactly perfect, either way."
"The one thing you're always safe wearing is basic black. Then jazz it up with accessories. You just can't go wrong with that," she assures.
"Black is essential," agrees Jenny Le of Opening Ceremony, which has stores in New York and just recently Los Angeles (openingceremony.us). Try this versatile Karen Kane Boyfriend Jacket .
Le recommends a few hot items to pick up this winter to turn heads anywhere you go.
"Velvet dresses, high waisted skirts, severe pencil skirts, cashmere cardigans, waistcoats, trenches and Victorian granny high heel boots," Le lists.
Another hot look, she says, is slim tuxedo pants and a chiffon bow blouse, or full trousers or high waisted pants."

Click here to read the rest of this article from Celebrate with Style