Business Casual Clothes Puyallup WA
Local resource for business casual clothes in Puyallup. Includes detailed information on local businesses that provide access to clothes, casual clothes, business clothes, women clothing, clothing store, tops, menswear, dress shirts, suits, and information on buying clothes online, as well as advice and content on dress code.
---
UNIFIRST CORPORATIONS
001 (253) 841-0555
1025 NORTH LEVEE ROAD
PUYALLUP, WA
Departments / Services
handcare, lab coat, custom embroidery, uniforms, flameresistant, clean room, work wear, uniforms rental, work clothes, clean room apparel, cleanroom apparel, jeans, uniform rental service, shirts, uniform rent, mats, embroidered apparel, pants, HACCP, uniform suppliers, restroom service, industrial uniforms, workwear, facility services, dust mops, embroidery, flame resistant, uniform services, uniform rental, polo, coveralls, floor mats, uniform, mops, industrial uniform, protective clothing, co
Hours
47.206927 -122.306377


DRESS BARN DRESS BARN WOMAN
001 (253) 939-1032
1101 SUPERMALL WAY
ALGONA, WA
Departments / Services
peacoat, CLOTHING WHOLESALE, women's fashion, Women Clothing Retail, trousers, satchel, Fashion, loop, energizing, wraps, sleek, dressy top, leather coats, handbag, accessories, cardigans, fine, dress, shoes, flares, studs, Women Clothing, elegant, styles, women, slippers, blazer, dinner, shirts, blouses, sweater, hip, modish, faux leather, CLOTHING MANUFACTURERS, coat, skirt, swell, Designer, casual, label, in fashion, shapewear, denim pants, bracelet, inspiring, style, gloves, tunic, sweater d
Hours
47.299317 -122.240709


Macy's
253/840-7000
3500 S. Meridian
Puyallup, WA
Departments / Services
Wedding Registry.


Dicks Sporting Goods #671
(253) 845-5188
3500 Meridian Street #600 Puyallup Wa
Puyallup, WA
Old Navy
(253) 435-1143
3500 So. Meridian
Puyallup, WA
ANN TAYLOR LOFT
(253) 472-8723
4502 SOUTH STEELE STREET
TACOMA, WA
Departments / Services
t-shirts, LOFT, Video Game Equipment Supplies, blouses, skirts, Accessory Retail, Clothing Accessories, Clothing Stores, Clothing, Women Clothing, Shirts, Dresses, Womens, Women's Clothing, Sweaters, women's clothes, Women's Clothing Stores, Pants, Women Clothing Retail, Store, tees, women's apparel, trousers, Supply, Petites, Accessory
Hours
47.217852 -122.467608


RECOGNITION PLUS
(253) 383-4910
3018 6TH AVENUE
TACOMA, WA
Departments / Services
laser, medals, embroidery, Sandblasting, workforce, lettermen jackets, Showrooms, sportswear, quality trophies, implementing, engravers, awards, trophy, elegant, crafted, Xenetech, glass, versatile, Corporate Awards, trophies, beautifully, crystal, industrial, Plaques, letterman, equipment, machines, applications, technology, ribbons
Hours
47.255190 -122.475710


English Garden Antiques
(253) 435-7519
3117 Meridian Ave E
Puyallup, WA
Men's Wearhouse
(253) 435-8061
4102 Meridian South, Ste.B2
Puyallup, WA
Hours
MON: 10:00-9:00
TUE: 10:00-9:00
WED: 10:00-9:00
THU: 10:00-9:00
FRI: 10:00-9:00
SAT: 9:30-9:00
SUN: 11:00-6:00;


JC Penney
(253) 845-6669
3500 S Meridian St
Puyallup, WA
Hours
Mon-Sat 10:00-9:00
Sun 11:00-6:00


Fashion party clothing wear casual: What to wear for casual cocktails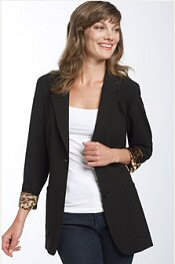 The holidays are here, and the winter party season is in full swing. And every winter, the question is "What to wear?" This is especially true when the invitation says, "Come for casual cocktails."
Whether you want to buy a new outfit or wear one of the classic pieces already in your closet, here are a handful of fashion-forward tips to guide your get-up.
Today's top party styles
"When the invitation says 'casual,' interpretations differ," says Leah Feldon, a Nashville and New York-based fashion expert (leahfeldon.com) and author of Does This Make Me Look Fat?
"Some people will always dress up, while others won't," she says. "Some will read 'casual' and others, 'cocktail.' If you do your basic black with fun accessories, you'll be exactly perfect, either way."
"The one thing you're always safe wearing is basic black. Then jazz it up with accessories. You just can't go wrong with that," she assures.
"Black is essential," agrees Jenny Le of Opening Ceremony, which has stores in New York and just recently Los Angeles (openingceremony.us). Try this versatile Karen Kane Boyfriend Jacket .
Le recommends a few hot items to pick up this winter to turn heads anywhere you go.
"Velvet dresses, high waisted skirts, severe pencil skirts, cashmere cardigans, waistcoats, trenches and Victorian granny high heel boots," Le lists.
Another hot look, she says, is slim tuxedo pants and a chiffon bow blouse, or full trousers or high waisted pants."

Click here to read the rest of this article from Celebrate with Style