Corporate Event Planning Katy TX
Local resource for corporate event planning in Katy, TX. Includes detailed information on local businesses that provide access to corporate event ideas, corporate event solutions, meeting management, technical support, audiovisual services, session management, and database management, as well as advice and content on corporate event management.
---
Posh Memorable Creations
(832) 437-5496
5608 Fifth Street, Suite B
Katy, TX
Katy Jumps Moonwalk Rentals
281-395-JUMP (5867)
6526 Mert Ln
Katy, TX
Houston Event Planning
(713) 541-1000
6968 Howell-Sugarland Rd
Houston , TX
Social Savvy Affairs, LLC
(877) 291-3531
Westheimer Rd
Houston, TX
e-Events Group
(281) 844-6613
134 Gessner
Houston, TX
O Design Solutions
(281) 573-8626
Katy, TX
Maxwell Mobile Massage
(281) 727-8227
On-Site
Katy, TX
One Touch Consulting
(713) 515-2102
11355 Richmond Ave.
Houston, TX
Booty Parlor Parties by Ciria
(626) 224-1289
Greatwood Community
Sugar Land, TX
Green Lily Events
(713) 894-4040
5450 Lampasas St.
Houston , TX
Party ideas for businesses: Business party: Professional events getting friendlier
Business parties have always been a mainstay of the winter holiday season. But today, companies are planning parties throughout the year. And more parties than ever. If you're already thinking about your own company's next event--whether it's a catered summer picnic for employees or a client-focused gathering--here are some helpful insights from an experienced Long Island business event planner.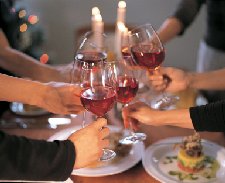 Kristie Koppe Galvani, vice president of event planning at HJMT Communications, a public relations, marketing, and event planning company in Westbury, New York, says that in recent months, HJMT has seen the Long Island corporate party business become not only more active, but also more interesting.
"Business parties are definitely more people-focused, these days" says Galvani. "Events are purposely being planned around relationship-building. They're smaller, with more time built in for mingling and for people to get to know each other better," she says.
Enjoyment is the goal
"Cocktail hours are longer, and programs are shorter," Galvani continues. "What we're seeing is that businesses want less formality and more fun."
Of course, some companies, particularly larger ones, choose hotel banquet halls for their product launches, holiday gatherings, or other corporate events, she says. "But we're also seeing an interest in doing something different. Some businesses are looking to have parties in museums, at airports, or on the rooftops of restaurants."
HJMT is also planning business parties in venues that only a few years ago might never have been considered, says Galvani. Among them: sports arcades and bowling alleys.
Casual parties for clients
The value of entertaining seems to be apparent to a growing number of businesses. "Parties definitely are being written into more company marketing plans," says Galvani. "We're doing client appreciation-type cocktail receptions that aren't even tied to specific holidays or promotional events," she says.
"Companies have casual get-togethers in their offices. They invite clients and hire caterers to provide passed h'ors d'oeuvres or informal pick-up fare, or even just wine, cheese, and crackers," she says.
Galvani also notes another popular business party trend that shows no sign of abating. (See Tasty & Trendy: What's Now and What's Next .) "At business as well as social events, desserts are being passed around," she says. "People want mini-cheesecakes, chocolate-dipped strawberries, small ice cream...
Click here to read the rest of this article from Celebrate with Style