Discount Designer Clothes Cincinnati OH
Local resource for discount designer clothes in Cincinnati. Includes detailed information on local businesses that provide access to dresses, evening dresses, formal dresses, clearance deals on clothing, women clothing, cocktail dress, cheap shoes, men's clothing, as well as advice and content on shopping online for clothing.
---
A-1 WORK CLOTHES BY PIECZONKA
001 (859) 392-9148
STREET
COVINGTON, KY
Departments / Services
trophies, carhartt clothing, underarmour, Engraving, dickie, carhartt, footwear, work shoes, steel toe boots, Awards, workwear, irish setter, work boots, dickies, redwing, red wing, clothing, work wear, worx, workboots, embroidery, dickies clothing, adidas, carhart clothes, carhart, dickie clothes, Frames, Cincinnati, Signs, steel toe shoes, Halloween Express, red wing shoes
Hours
39.071860 -84.517929


PIECZONKA UNLIMITED
001 (513) 941-7720
201 SUNSET AVENUE
NORTH BEND, OH
Departments / Services
underarmour, clothing, embroidery, Cincinnati, Halloween Express, Engraving, red wing, red wing shoes, trophies, workwear, irish setter, dickie, Awards, carhartt clothing, steel toe shoes, worx, footwear, dickie clothes, work wear, redwing, carhart clothes, dickies, Carhartt, Frames, adidas, work boots, workboots, steel toe boots, work shoes, carhart, dickies clothing, Signs
Hours
39.149498 -84.739752


A-1 WORK CLOTHES BY PIECZONKA
001 (513) 941-7720
STREET
NORTH BEND, OH
Departments / Services
work shoes, dickie, steel toe shoes, work wear, carhartt clothing, carhart clothes, irish setter, carhart, red wing shoes, Halloween Express, workboots, trophies, clothing, Cincinnati, footwear, Signs, workwear, worx, redwing, dickies clothing, Engraving, work boots, adidas, steel toe boots, embroidery, dickies, carhartt, Awards, underarmour, Frames, red wing, dickie clothes
Hours
39.121801 -84.733279


Thormis Inc
(513) 221-3619
115 Woolper Ave
Cincinnati, OH
American Apparel
(513) 721-3078
243 W. McMillan St.
Cincinnati, OH
Hours
Mon - Sat 11am - 8pm
Sun 12pm - 6pm,


1 Earth Promotions
(513) 939-2210
2058 Casa Loma Drive
Fairfield, OH
Data Provided By:
AMERICAN EAGLE OUTFITTERS
(513) 753-6222
4601 EASTGATE BLVD # 340
CINCINNATI, OH
Departments / Services
shorts, utility, jewelry, baseball caps, aeo, bucket, swimwear, girls, print, khakis, alive, mules, outerwear, cargo, hats, tops, Women's Clothing Stores, bootcut, teens, belts, jackets, bottoms, wide leg, dvd, sweatshirts, halter, sandblast, fashion, tee shirts, tees, bracelets, denim, rings, pants, chokers, boot cut, graphics, slides, Men's Clothing, t shirts, madras, shoes, jeans, bungie, boxers, blue jeans, guys, video, sandals, bikini, tube top, drawstring, skirts, visors, books, swim, pock
Hours
39.102630 -84.277526


Svdp Thrift Store - Este Ave.
(513) 681-9838
4530 Este Ave.
Cincinnati, OH
Cincinnati Modern
(513) 542-5999
819 Dunore Rd
Cincinnati, OH
Down Town Nostalgic
(513) 861-9336
119 Calhoun St
Cincinnati, OH
Data Provided By:
Fashion party clothing: Affordable fashion party clothing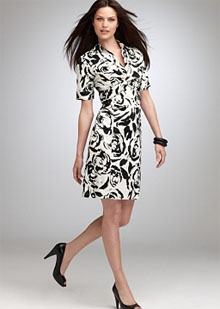 The great fashion news right now is that stylish party clothing is also budget friendly. Bobbie Thomas, style editor of NBC's Today show, adds that dressing up also is easier than ever.
Dressing up is about dressing down, Thomas asserts. It's about reinventing, reusing, and rethinking your wardrobe, she continues. You should look to the basics rather than purchasing items that are extravagant in style and price.
Year-round for top value
Powered by the catch phrase, "make it work year-round," Thomas sees a movement toward season-less style, where fashion is no longer ruled by color. For example, she points out, florals will continue to bloom through winter. The black and white floral dress featured here by Alfani (available at macys.com) is a great find. "I love the fact that women aren't putting away their summer and spring pieces," Thomas says. "We're seeing pastels and soft summer colors being incorporated, year-round."
...
Click here to read the rest of this article from Celebrate with Style