Optometrists Lawton OK
This page provides useful content and local businesses that can help with your search for Optometrists. You will find helpful, informative articles about Optometrists, including "Optical fashion: Look Black-tie Glamorous in Eyeglasses". You will also find local businesses that provide the products or services that you are looking for. Please scroll down to find the local resources in Lawton, OK that will answer all of your questions about Optometrists.
---
Ann A Warn
(580) 250-5855
3201 W Gore Blvd
Lawton, OK
Specialty
Ophthalmology
Data Provided By:
JenniferL. Head,O.D.
(580) 355-1298
1302 SW C Avenue
Lawton, OK
Ross Optical & Hearing Svc
(580) 353-5640
901 SW D Ave
Lawton, OK
John Barnes
(580) 355-3036
1415 W GORE BLVD
Lawton, OK
Specialty
Optometry
Associated Hospitals
Eye Care On Gore Pllc


Primary Eye Care Assoc
(580) 248-5280
409 SW C Ave # A
Lawton, OK
John P Fang
(580) 250-5855
3201 W Gore Blvd
Lawton, OK
Specialty
Ophthalmology
Data Provided By:
MoniqueWong Leong,O.D.
(580) 458-9756
Monique Wong Leong, O.D.,311 S. 9th St.
Lawton, OK
Tesoma Vision
(580) 248-5280
409 SW C Ave Ste B
Lawton, OK
Lawton Eye Care Associates
(580) 355-3036
1415 W Gore Blvd
Lawton, OK
HowardK Ross,O.D.
(580) 353-5090
Howard K Ross, O.D.,311 S 9th Street
Lawton, OK
Data Provided By:
Optical fashion: Look Black-tie Glamorous in Eyeglasses
You've got the gown, you've got the jewels, and you're confident that your hair and makeup will look divine. But you feel like something's off. Could it be that your eyeglasses aren't as glamorous as the rest of your ensemble?
Glasses as an essential accessory—The fact is, if you're dressed to the nines in a glossy off the shoulder silk number with diamonds sparkling at your neck, granny glasses aren't going to cut it. "Choose your eyeglasses with the same attention to detail that you would your most captivating black-tie gown and accessories," advises Kentisha Silcott, a wardrobe stylist from New York.
In fact, Silcott maintains, a pair of well-designed frames can serve as the heart of your entire black tie look. "The key is to keep the balance of your look very sleek; smart, and unfussy. This way, you're showcasing those marvelous glasses—and in doing so, showcasing yourself," she says.
Image credit: Vogue eyeglasses from FramesDirect.com
Glasses and jewelry should complement each other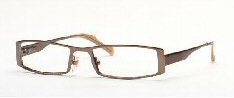 Your glasses and the jewelry you're wearing and are not mutually exclusive. For example, if your glasses are wide and angular like the Vogue frames shown here, choose a piece of jewelry with a similarly angular quality--maybe a great bold ring or a chunky bracelet.
"But don't get all matchy-matchy, which can translate as contrived and stiff. Instead feel free to mix your metals--platinum with yellow or rose-gold can be stunning," says New York jewelry designer Karen Karch. Think about the density, texture, color, and shape of your pieces [including your glasses] and how they play against one another, she counsels.
Consider the shape of your face
The shape of your glasses should enhance--not detract, from the individual curves and planes of your face. Following are four basic face shapes and the frames that will best flatter them:
Round—Look for wider, angular frames, which will give your face a thinner, more contoured appearance. Rectangular shapes are usually flattering. Dark colors, such as black or dark tortoise, will make a round face appear thinner.
Oval—Because of its inherent balance, oval is considered the ideal, so if your face is oval-shaped, you have the most choices. As a general rule, choose frames that aren't any wider than the widest part of your face—which can throw off your perfect oval. Either round or angular glasses should look great on you.
Oblong—Frames should emphasize the center of the face, to reduce length; contrasting colors also will add width. Avoid small or square-shaped glasses, which only draw attention to the angles of an oblong face.
Square—A square shape means you have a stronger jaw line and a more prominent forehead. To soften your angles, try frames with curved tops and enough width to take the focus away from the jaw line; narrow oval-shaped glasses may look best.
Think about your coloring
Skin color should hel...
Click here to read the rest of this article from Celebrate with Style