Party Photographers Florence SC
Local resource for party photographers in Florence. Includes detailed information on local businesses that provide access to event planners and party supplies, as well as advice and content on photography.
---
Brandon Harrington Photography
(843) 621-5294
900 Bromley Hall
Florence, SC
Specialty
Photographers


Sallenger Photography
(843) 413-1794
316 Cherokee Rd
Florence, SC
Specialty
Photographers


Fred Salley Jr Photography
(843) 665-4460
1504 Madison Ave
Florence, SC
Sylvia Annes Bridal & Formal
(803) 649-4701
208 Marion St SE
Aiken, SC
bliss photography llc
(864) 243-7979
209 yorkswell lane
greenville, SC
Specialty
Photographers


Collin M. Smith Portrait Photograph
(843) 665-4646
1937 West Palmetto St.
Florence, SC
Specialty
Photographers


Smiling Herbert Wedding Photography
(843) 669-8683
Florence, SC
Specialty
Photographers


Hughes Photography
(843) 861-4877
2 Public Sq
Darlington, SC
J & J Photography
(803) 254-2017
3403 Farrow Rd
Columbia, SC
Bill Woodward Photography
(864) 316-0973
759 N Liberty St
Spartanburg, SC
Party planning ideas: party photographer
Whether it's your baby's first birthday or Mom and Dad's golden wedding anniversary, the hours spent celebrating once-in-a-lifetime milestones often fly by too quickly. Once the cake is cut and the presents are opened, all that really remain are the photographs to keep memories alive.
While most people think of hiring a professional photographer for weddings and Bar/Bat Mitzvahs, they don't often consider the value of engaging a pro to capture life's other major occasions.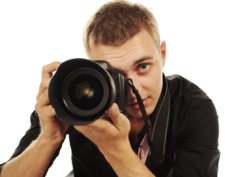 Think about it: For a large and important gathering, you're likely to forego the cooking, serving, and clean-up, turning those responsibilities over to an experienced caterer or restaurant. Now shift your focus to the photos: Picture the likely differences between photos taken by well-meaning friends with digital or disposable cameras and those shot by a professional.
Go with a pro
The fact is, the pros have the knowledge, experience, and top-end equipment to capture the joy of the people who are most important to you, as well as the can't-miss moments of your event. They can get every gorgeous detail--day or night, indoors or out, in bright rooms or those lit by flickering candles.
Most professional photographers also do minor photo-retouching, such as softening skin tones, which can transform so-so images into beautiful, flattering photographs that you, your family, and friends will enjoy looking at forever.
Here's expert advice on how to ensure that your celebration pictures are both warm and beautiful:
Before the Event
Choose the photographer whose style is right for you. The relationship with a photographer is an important one, says Tammy Grinder of Artistic Images by Tammy in Camden, South Carolina. Some photographers shoot traditional, posed photographs while others take some candid shots, or employ a more photojournalistic approach, in which the goal is to capture the flow of events without having subjects pose for photographs. Some photographers employ a mix of techniques, depending on what clients want.
Check out photographers' Web sites, their samples, and references. Talk to them about their approaches before making your selection.

An important note about contracts: While fees can vary dramatically, expect to pay most professional photographers between $100 and $200 per hour. Some photographers offer packages that include a certain number of photos, perhaps with several enlargements or an album. Others price everything on an à la carte basis.
Once you've decided on the style of photography you want, be sure to find out exactly what each photographer's fee covers. Of course, your contract should spell out every detail of what you are entitled to and when—such as when images will be posted online for guests to order their own reprints, etc. See some more good tips on specifying contract details on the blog, Brides Know Best . That way, there are no surprises later.
Meet ahead of time: That pre-event meeting is i...
Click here to read the rest of this article from Celebrate with Style
Party planning ideas: party photographer - Page 2
At the Event
Go easy on the make-up: Everyone wants to look as good as possible, but piling on make-up isn't the best way to achieve it. "I always suggest subtle make-up," says Chris Brandt Hoopes, a photographer in Knoxville, Tennessee.

"As a photographer, I think of how things would look in black and white. Too-deep colors can make it seem as if you're wearing black lipstick and dark eye shadow," she maintains. "If the make-up is subtle and complements your skin tone, the picture will come out beautifully."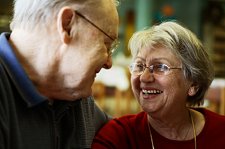 Help to create intimate moments: For a 50th anniversary party, Aldridge says she asked the couple to share a secret or a memory from the years they've spent together. "I always say, 'Tell me a story, or something funny that you've got on him. Or, tell me the most touching thing he's ever done for you.'

"As people speak, I take pictures, and get them to laugh," she says. "This exercise gets them to open up. They give each other that look. Then you get the tender moment that's priceless at any age.
Relax and be you: Many people freeze when a camera is pointed at them. "They tend to pose, or they see a camera and smile," says Grinder. "I like bringing the inner and outer beauty together, naturally," she says. "And you don't want posed smiles hanging on your walls. You want to see real smiles."
Let kids be kids: It's a rare child who will pose like an angel for any length of time. And most photographers say the best shots show kids being themselves. "I like to let them play around," says Grinder. "They're happier and we're happier. I catch them doing whatever they want. Those pictures are the ones parents hang on their walls because they're getting their children in their true light."
Capture the fun: At a recent 40th birthday, Aldridge took the usual shots of the guests arriving, talking in little groups, and toasting the guest of honor.    

However, she says, the best shots were taken once the ...
Click here to read the rest of this article from Celebrate with Style