Plus Sized Women's Clothes Worcester MA
Local resource for women's clothes in Worcester, MA. Includes detailed information on local businesses that provide access to dresses, skirts, blouses, jeans, lingerie, swimwear, maternity wear, sportswear, and jackets, coats, tops, as well as advice and content on women's footwear.
---
NatureWear Organics
(508) 248-3116
Online
Charlton, MA
Data Provided By:
Crunchy Boutique
(508) 478-1991
102 Bates St
Mendon, MA
Data Provided By:
Dicks Sporting Goods #151
(508) 595-9808
541E Lincoln St Worcester
Worcester, MA
Gap
(508) 852-0404
7 Neponset Street
Worcester, MA
Christopher and Banks
(508) 832-4005
Auburn Mall
Auburn, MA
Hours
Mon-Sat 10:00 am - 9:30 pm
Sunday 11 am - 6 pm


Snooty Jewelry
(508) 460-1203
PO Box 940
Marlborough, MA
Data Provided By:
Sneakerama
(508) 799-7278
12 Lake Ave
Worcester, MA
Old Navy
(508) 854-8199
7 Neponset Street
Worcester, MA
New England Backpacker Inc
(508) 853-9407
6 E Mountain St
Worcester, MA
Express
(508) 832-3811
385 Southbridge St
Auburn, MA
Data Provided By:
Body type fashion: Body clothes: clothes tips
Most of us are smart enough to know that trying to achieve the pencil-thin runway model look is, at best, unrealistic. At worst, it's dangerously unhealthy. Still, that doesn't stop many of us from bemoaning at least one or two body "flaws" when we stand before full-length mirrors trying on little black party dresses or slinky evening gowns.
David Ostrove, owner of Tallulah, a fashion and accessories store in Woodbury, NY, offers advice on what looks best on short and tall women. He also suggests ways to emphasize our assets or move eyes away from the parts of the body we wish were larger, smaller, trimmer, or tighter.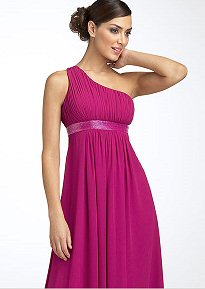 SHORT STATURE:
Try dresses with drop waists and fitted bodices.
Avoid very full skirts with lots of layers.
Stay away from dresses with flounces at the bottom.
Avoid gowns with long torsos.
Your best look: straight skirts or those with minimal flare.
TALL STATURE:
Forgo mini-dresses; they're often not well suited for tall women.
Experiment with different lengths, both below and above the knee; tea-length and floor length skirts and gowns flatter taller figures.
Be daring. Try one-shoulder styles, like the JS Boutique gown , left, backless dresses, and gowns with high-on-the-thigh side slits.
HEAVY BOTTOM:
Stay away from very slim, form-fitting dresses.
Stick with A-lines; they keep attention focused on your top.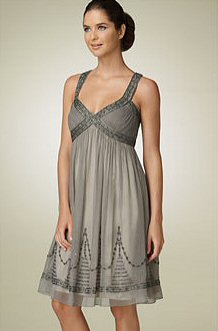 LARGE TUMMY:
Go for a side-draped effect in front, rather than a smooth line of fabric. This will draw attention away from your middle.
Avoid clingy, tight fabrics, which show extra weight. The Adrianna Papell beaded chiffon dress, right, floats right over the tummy.
Occasion dresses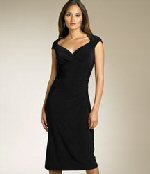 Anne Klein Cress Cap Sleeve Matte Jersey Dress
-->
BROAD SHOULDERS:
Wear spaghetti straps; halter tops, off-the-shoulder dresses; exposing broad shoulders makes them look great.
If you're looking for dresses with sleeves, try to find V-necks; they draw attention inward.
Avoid any garments that have shoulder pads.
UNTONED ARMS:
Wear off-the-shoulder dresses that cover the tops of your arms.
Beautiful necklines are helpful--portrait necklines and collars that frame the shoulders draw the eye up and away from the arms.
Add a jacket with sheer arms to a strapless dress.
Wrap a chiffon cocoon around the top of a strapless dress, keeping the shoulders exposed for a great, sexy look.
Robin White, of New York Dolls in Mt. Kisco, NY ...
Click here to read the rest of this article from Celebrate with Style
Body type fashion: Body clothes: clothes tips
Robin White has more additions to the list of figure features and how to choose party clothes that maximize or minimize each one:
LARGE WAIST:
The obvious first choice? An A-line dress that is fitted on top and flares slightly at the bottom; one color from top to bottom helps create a slim line.
Also try a bubble hem, a look that will draw attention away from the waist and bring the eye down.
Go for a so-called baby-doll dress, or a fashionable empire style that fit snugly under the bust, skims past the middle, and flares out at the hips, such as the flattering Lily  dress s hown at the left.
BIG BUST:
While empire lines accentuate the bustline, halter tops are visually minimizing.
Straight necklines,whether strapless or bateau, flatter women with larger busts.
Avoid sleeves that end at the bustline; shorter or longer sleeves are better. The dress at the left also shows how longer sleeves can flatter a larger woman.
If you're big-busted and short-waisted, wear dresses with dropped waists.
THICK LEGS:
Avoid tea-length dresses, which can cut you visually at the wrong place.
Wear A-line dresses that stop at the knee; knee-length dresses are particularly good for women whose ankles are heavy--they make ankles look thinner.
Finally, the experts agree, count on a fabulous evening jacket to add a flattering finishing touch to any party ensemble. Women with large busts or large bottoms should avoid short cropped jackets, while...
Click here to read the rest of this article from Celebrate with Style