Tuxedo Rentals Athens GA
See below to find tuxedo rental services in Athens that give access to wedding suits rental, tuxedo separates, tuxedo packages, fly front banded tuxedo rentals, full dress tails tuxedo rentals, zoot suit rentals, cutaway tail tuxedo rentals, tone-to-tone tuxedo rentals, and tuxedo purchases, as well as advice and content on tux accessories.
---
Gibsons George Mens Wear
(706) 548-4663
1061 Baxter St
Athens, GA
Barrons Rental Center
(706) 543-3486
340 Hawthorne Ave
Athens, GA
Perno's Formal Wear
(706) 354-8072
1066 Baxter St
Athens, GA
Ferguson Dick Clothing Store
(706) 548-7246
Beechwood Shopping Ctr
Athens, GA
Mw Tux
(706) 548-3479
Ga Square Mall
Athens, GA
The Mens Wearhouse
(706) 548-3479
3700 Atlanta Hwy
Athens, GA
JoS. A. Bank
(706) 549-2270
196 Alps Rd
Athens, GA
Isabel's Alterations & Quality Dress Making
(706) 372-7074
2041 West Broad St
Athens, GA
I DO I DO Bridal Center
(706) 546-8586
Alps Road Shopping Ctr
Athens, GA
Kum's Fashions
(706) 546-6945
115 E Clayton Street
Athens, GA
Most flattering tuxedo styles for men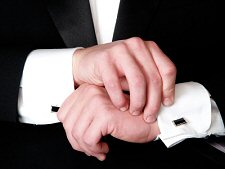 If a man is part of a wedding party, he has little to say about the tuxedo he'll be wearing. The bride- and groom-to-be usually make that decision.
However, a man who needs to rent or buy a tuxedo for other weddings or formal events has lots of choices.
There are definitely trends in men's formal wear . But to look and feel his best and most confident, a man should select one of the tuxedo styles that will be most flattering for his body type.
Here are some good, easy formal wear-buying guidelines for men of all shapes and sizes:
Choose styles according to body type
Short and thin:
Avoid a jacket that will overwhelm you, such as double-breasted styles. Try a one-, two-. or three-button single-breasted jacket with a low button stance. Opt for thin lapels; or if you want to add more width to your upper body, go with a wide lapel or notched collar. Accessories with large, obvious patterns can also be overwhelming. A solid cummerbund or a subtly patterned vest and a matching bow tie are the way to go.
Short and stocky:
A classic black one- or two-button tuxedo with a shawl lapel is an excellent choice for you. Black is slimming, and the longer lapels will add length.
If you have a thick waist, choose a vest instead of a cummerbund. The horizontal lines of a cummerbund will add width, while the vertical lines of a vest will add length and draw attention upwards, toward your face. Pair the vest with a four-in-hand tie to really emphasize the look and add length. For shirts, avoid wing-tip collars, which will make your face look heavier.
Tall and thin:
You can wear almost any style. You will look equally good in a classic black tux, a longer 5-button jacket, or a double-breasted style. The same goes for accessories—you have many options.

Tall and stocky:
Avoid double-breasted jackets and wide lapels since they will add bulk. Instead, opt for a thinner shawl lapel and a traditional single-breasted tuxedo jacket.
When it comes to accessories, if you have a wide face or a thick neck, avoid thin ties and wing collar shirts, which will add weight to your face. Similarly, opt for a non-pleated or wide-pleated shirt. Multiple thin pleats will add bulk. If you have a thick waist, try a vest instead of a cummerbund and bow tie. The horizontal lines of a cummerbund will add width, while the vertical lines of a vest will add length and draw attention upwards, toward your face.
More men's formal dress-up fashion tips:
Jacket fit...
Click here to read the rest of this article from Celebrate with Style
Timeless Tuxedos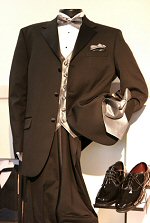 Although men don't have quite as many options as women do when it comes to dressing up, they do have some choices to make: Wing collar vs. spread collar shirt? Bow tie or four-in-hand neck tie? Cummerbund or vest?
We asked rental and retail outlets across the U.S. to find out what most men prefer, and then checked in with Fashion Week favorite and Pennsylvania-based men's designer Michael Wesetly for his fashion counsel.
What Most Men Are Wearing
Kris Taylor of Al's Formal Wear in Tulsa, Oklahomoa, says that her top tuxedo is the two-button notch lapel, but the three-button tux runs a close race. "The two-button jacket will always be in style,"she says.
Two-button notch tuxes are also the requested style at Washington D.C.'s Scogna Formal Wear and After Hours Formal Wear in Chicago.
Wesetly has his own advice for the button dilemma. "High three-button is my personal favorite. It presents a luxurious and fashionable sense of style and elegance."
"The most important thing when buying a tuxedo—or for that matter, a suit—is to find something that fits properly," urges Taylor. "It's all about how you look and feel, and a proper fit is the place to start." See Most flattering tuxedo styles for men.
Color Counts
At Scogna Formal Wear, black tuxedos are still the most popular color. The same is true at Macy's and Nordstrom's, according to several sales managers. Men typically choose lightweight wool in black, navy, or grey.
At Al's Formal Wear, T...
Click here to read the rest of this article from Celebrate with Style