Wedding Caterers Princeton WV
Local resource for wedding caterers in Princeton. Includes detailed information on local businesses that provide access to wedding planners and catering services, as well as advice and content on event planning.
---
Special Touches Cake & Catering
(304) 487-6581
315 Straley Ave
Princeton, WV
Specialty
Catering


Gingerbread House II
(304) 467-7969
1701 Reese Harmon Ridge RD
Rock, WV
Specialty
Catering


Topspot Country Cookin
(304) 984-2816
7139 Sissonville Dr
Charleston, WV
Specialty
Catering


Summit Conference Center
(888) 224-0515
Huntington, WV
Specialty
Catering


Full Bowl Catering
(304) 292-2511
616 Richwood Ave
Morgantown, WV
Specialty
Catering


Aramark
(304) 384-5313
PO Box 1000
Athens, WV
Specialty
Catering


Ajs Pig Pickin Buffet and Catering John Price
(304) 743-7990
Owner Ona
Huntington, WV
Specialty
Catering


Meticulous
(304) 343-0090
1034 Bridge RD
Charleston, WV
Specialty
Catering


The Blennerhassett
(304) 422-3131
320 Market St
Parkersburg, WV
Specialty
Catering


Nawab Indian Cuisine
(304) 525-8500
600 4th Ave
Huntington, WV
Specialty
Catering


Catering Event Planning: Caterer Reveals What Clients Should Know - Page 2
DO BE REALISTIC ABOUT THE BUDGET
If you are working within a specific budget, plan the party with all costs in mind. Everyone wants a good deal, but being unrealistic about what your budget can pay for is pointless. At one of Schwartz's restaurants in New York City, the least expensive option would be a cocktail party with a wine and beer open bar and appetizers served family-style.
For up to 50 people, guests could be seated in the back of the restaurant. That means that if you were hosting the party, you wouldn't have to rent out the whole space. For a two-hour party (with no upgrades of food or alcohol), the minimum cost would be about $1,500 before tax and gratuities (though the average client ends up spending about $2,500, she says).
Renting out the entire restaurant with extras such as audio-visual equipment, extravagant flowers, balloons, top premium open bar, passed hors d'oeuvres, customized food and a more extensive array of dishes, or special requests for dishes not on the menu can add considerably to the cost, boosting the tab for a party for 50 people to potentially over $15,000.
DO STICK TO YOUR GUEST COUNT
A good caterer or event planner will always be prepared for an extra few guests. There is a difference, however, between one or two unexpected people and twenty guests whose presence hadn't been anticipated.
Letting the planner know the day before your party that the event has grown by more than ten percent is a big problem. At a ti...
Click here to read the rest of this article from Celebrate with Style
Catering event planning: Caterer Reveals What Clients Should Know - Page 3

DO PLAN FOR BAD WEATHER
Even the best caterer cannot control Mother Nature. If you're planning a garden party for 100 guests, you must have a back-up plan. Clients should always work with their planners to create an indoor option for an outdoor event. The back-up plan may not be ideal, but having one is essential.
DON'T CHANGE THINGS AT THE LAST MINUTE
A successful event is one that flows flawlessly. Each detail is planned meticulously. When clients want to change major aspects of their event the day before the party, they don't realize how many hoops the caterer must jump through to ensure that the event does not suffer.

Schwartz recalls one particular nightmare: Clients who, at the last minute, wanted her to change the party to another room; put up a mock wall to close off an area in the restaurant; and bring a microphone and speakers into a party that was using only half the restaurant.

Image by Siena & Cocotte Catering , Valencia, Spain

...
Click here to read the rest of this article from Celebrate with Style
Catering event planning: Caterer Reveals What Clients Should Know - Page 4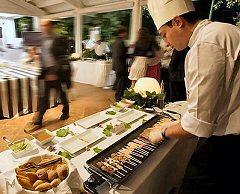 DO GIVE THE CATERER ENOUGH TIME TO DO A GREAT JOB
Clients who expect to be able to book a party at a nice restaurant or have a catered affair in their homes within a couple of days are bound to be disappointed—or totally shocked at the "rush" charges. Having small groups over is great for impromptu entertaining. Large events, however, require special food, preparation, and time. Even if you find a willing caterer, the minimum amount of time you should allow for a large party is one week.
DO LET THE STAFF DO THEIR JOBS
It's wonderful for clients to be actively involved in the initial party planning process; their input is almost always appreciated. Clients who micromanage the caterer, the serving staff, and the bartenders during the event make it difficult for everyone—and wind up not enjoying themselves, either.
The time for communication of your wishes and special requests is prior to the event. On the day of the party, relax and let the professionals take over. If you find yourself succumbing to the urge to oversee every detail, take a deep breath, have a sip of wine, and remind yourself: That's why you hired them in the first place.
Image by Siena & Cocotte Catering , Valencia, Spain
You might also enjoy:

Choosing the Right Photographer: How best to capture your most wonderful occasions
Selecting the right band for your event
Make any time party time: What to serve
Tasty & Trendy: What's now and what's next...
Click here to read the rest of this article from Celebrate with Style