Wedding Invitations Davenport IA
Local resource for wedding invitations in Davenport. Includes detailed information on local businesses that provide access to invitation services and party planners, as well as advice and content on weddings.
---
The Printers Mark
(309) 732-1174
1512 4th Ave
Rock Island, IL
Specialty
Invitations & Stationery


Model Printers
(309) 764-2221
310 15th St
Moline, IL
Specialty
Invitations & Stationery


Notes N Stuff
(563) 332-1902
Bettendorf, IA
Specialty
Invitations & Stationery


Create A Party
(563) 386-0050
1161 E Kimberly Rd # B
Davenport, IA
Aaa Rents Party & Special Events
(309) 757-7368
4500 3rd St
Moline, IL
Beardsley Printery Inc
(309) 788-4041
1103 51st Ave
Rock Island, IL
Specialty
Invitations & Stationery


Watermark Stationers
(309) 757-7787
1500 River Dr
Moline, IL
Specialty
Invitations & Stationery


Aaa Rents Tools Party & Special Events
(563) 386-8661
3707 N Brady St
Davenport, IA
Factory Card & Party Outlet
(309) 764-1079
4500 16th St
Moline, IL
Party Plus
(563) 355-0188
1813 Kimberly Rd
Bettendorf, IA
Planning a party: The Latest Trends in Party Invitations
Fill-in-the-blank party invitations will always have their place. However, the hottest trends in party invitations involve high-concept customizing that reflects the party's theme as well as the personality of the party-giver or guest of honor.
Trends in invitations often follow fashion, says Karin Spraggs of Super Deluxe, in New York (superdeluxenyc.com). Spraggs and her partner, Adrienne Wong, design custom invitations and stationery. "Bright colors are very popular now, as are metallic inks," she notes.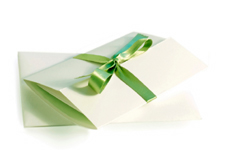 Kate Wells, marketing coordinator for stationery designer Anna Griffin, in Atlanta, (annagriffin.com) agrees. "People really want bright colors and a contemporary look right now. We also get a lot of requests for invitations with embellishments--buttons, ribbon corners, and anything die-cut."
Signature Style
"Everybody wants something that's individual, that makes them feel special," says Spraggs.
Some clients arrive with objects or images for inspiration, she explains. "One of our customers is a fashion designer. She wanted her son's stationery to replicate a painting they both loved."
Other clients simply want invitations that are spectacular. "For an anniversary party," Spraggs recalls, "we did a four-panel, three-color pop-up invitation. In addition to the invitation, there were five other pieces in each envelope: an event schedule, two RSVP cards and two envelopes." The customer needed 300 invitations. The total cost: about $6,000.
Invitations with gifts
Another trend that Spraggs sees is including a small gift with each invitation. "One of our clients wanted Italian paper for the lining of the envelope, with paperweights included as a keepsake," says Spraggs. The invitations, including the hand-lined envelopes, cost the customer about $9 apiece. Each paperweight added $65 to the tab. Another idea for a small gifts are pretty bookmarks marked the date or name of your special event like the invitations shown at the right from HotRef.com
When paper invitations don't convey quite enough information, DVDs may be the solution. "Some people want to include a photo montage to give as a keepsake for family and friends," explains Lindsay Arambula of Show & Tell Invitations, in Orlando, Florida (showandtellinvitations.com). "Others give DVDs to guests who may not know much about them," she says. Useful for both personal and business events, a DVD can "show guests who the hosts or guests of honor are, and tell their stories," says Arambula.
Show & Tell often uses personal photos, existing video footage, and customers' favorite songs to create two- to three-minute DVDs. The company has produced DVDs for such family events as children's birthdays and weddings.
Some customers send DVD invitations alone, in insulated mailers. More often, though, they choose to send the DVDs along with printed invitations, so guests needn't rely on technology to access details about the event.
More time, more cost
If customized D...
Click here to read the rest of this article from Celebrate with Style