Wedding Invitations Saint Paul MN
Local resource for wedding invitations in Saint Paul. Includes detailed information on local businesses that provide access to invitation services and party planners, as well as advice and content on weddings.
---
490 Summit Catering & Reception Site
(651) 292-9623
490 Summit Avenue
St. Paul, MN
Data Provided By:
Savvi Formalwear - Minnesota
(763) 315-1820
Twin Cities Metro Area, MN
Data Provided By:
MA Kinane Calligraphy Illustration & Design
(651) 917-2169
Saint Paul, MN
Specialty
Invitations & Stationery


Million Impressions Ltd
(651) 631-2023
2812 Fairview Ave N
Saint Paul, MN
Specialty
Invitations & Stationery


Ekcetera
(651) 552-6077
2914 Upper 55th St
Inver Grove Heights, MN
Specialty
Invitations & Stationery


Bridal Center
(763) 550-3992
4116 North Lancaster Lane
Plymouth, MN
Data Provided By:
Invitations For Less
(952) 937-9549
5055 Norman Drive
Minnetonka, MN
Years in Business
30
Membership Associations
PROFESSIONAL WEDDING GUILD OF MINNESOTA MEMBER, PLATINUM MEMBER OF TWIN CITY BRIDAL ASSOCIATION,
Awards
CARLSON CRAFT DISTINGUISHED DEALER AWARD, REGENCY STAR DEALER AWARD, ELITE PERSONALIZED CREATIONS GOLDEN PRIORITY DEALER AWARD, NU-ART DISTINGUISHED DEALER AWARD,ENCORE STUDIOS GOLD LEVEL AWARD
Data Provided By:
Plan My Paper
(612) 735-1585
2657 Western Ave
Roseville, MN
Specialty
Invitations & Stationery


Open Invitation
(612) 387-7168
1718 Polk Street NE
minneapolis, MN
Specialty
Invitations & Stationery


Pages By Peterson
(715) 828-2381
1415 11th Ave. S
Minneapolis, MN
Specialty
Invitations & Stationery


Data Provided By:
Planning a party: The Latest Trends in Party Invitations
Fill-in-the-blank party invitations will always have their place. However, the hottest trends in party invitations involve high-concept customizing that reflects the party's theme as well as the personality of the party-giver or guest of honor.
Trends in invitations often follow fashion, says Karin Spraggs of Super Deluxe, in New York (superdeluxenyc.com). Spraggs and her partner, Adrienne Wong, design custom invitations and stationery. "Bright colors are very popular now, as are metallic inks," she notes.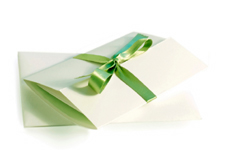 Kate Wells, marketing coordinator for stationery designer Anna Griffin, in Atlanta, (annagriffin.com) agrees. "People really want bright colors and a contemporary look right now. We also get a lot of requests for invitations with embellishments--buttons, ribbon corners, and anything die-cut."
Signature Style
"Everybody wants something that's individual, that makes them feel special," says Spraggs.
Some clients arrive with objects or images for inspiration, she explains. "One of our customers is a fashion designer. She wanted her son's stationery to replicate a painting they both loved."
Other clients simply want invitations that are spectacular. "For an anniversary party," Spraggs recalls, "we did a four-panel, three-color pop-up invitation. In addition to the invitation, there were five other pieces in each envelope: an event schedule, two RSVP cards and two envelopes." The customer needed 300 invitations. The total cost: about $6,000.
Invitations with gifts
Another trend that Spraggs sees is including a small gift with each invitation. "One of our clients wanted Italian paper for the lining of the envelope, with paperweights included as a keepsake," says Spraggs. The invitations, including the hand-lined envelopes, cost the customer about $9 apiece. Each paperweight added $65 to the tab. Another idea for a small gifts are pretty bookmarks marked the date or name of your special event like the invitations shown at the right from HotRef.com
When paper invitations don't convey quite enough information, DVDs may be the solution. "Some people want to include a photo montage to give as a keepsake for family and friends," explains Lindsay Arambula of Show & Tell Invitations, in Orlando, Florida (showandtellinvitations.com). "Others give DVDs to guests who may not know much about them," she says. Useful for both personal and business events, a DVD can "show guests who the hosts or guests of honor are, and tell their stories," says Arambula.
Show & Tell often uses personal photos, existing video footage, and customers' favorite songs to create two- to three-minute DVDs. The company has produced DVDs for such family events as children's birthdays and weddings.
Some customers send DVD invitations alone, in insulated mailers. More often, though, they choose to send the DVDs along with printed invitations, so guests needn't rely on technology to access details about the event.
More time, more cost
If customized D...
Click here to read the rest of this article from Celebrate with Style
Local Events
UST Executive Conference on the Future of Health Care
Dates: 11/5/2020 – 11/5/2020
Location:
University of St.Thomas Saint Paul
View Details