Wedding Invitations Springfield MA
This page provides relevant content and local businesses that can help with your search for information on Wedding Invitations. You will find informative articles about Wedding Invitations, including "Wording invitations for events, weddings, and all other parties- Part 1", "Wording invitations for events, weddings, and all other parties- Part 2", and "Wording invitations for events, weddings, and all other parties - Part 3". Below you will also find local businesses that may provide the products or services you are looking for. Please scroll down to find the local resources in Springfield, MA that can help answer your questions about Wedding Invitations.
---
Stylez For The Aisle
(860) 254-5397
5 A Pasco Drive
East Windsor, CT
Years in Business
5
Data Provided By:
Naomi's Inn
(413) 433-6019
20 Springfield Street
Springfield, MA
Julie Party Planner
(413) 592-5329
234 Grove Street
Chicopee, MA
Creative Excellence
(860) 490-6992
51 Collins Road
Somersville, CT
LB Events & Marketing
(413) 237-0604
5 Miller Ave
Southampton, MA
Elite Wedding & Event Planning
(413) 306-0337
603 Sumner Avenue
Springfield, MA
Lilli
(413) 301-3882
33 Fairhaven Dr.
Indian Orchard, MA
Ever After Event Planning
(413) 610-0143
541 Winsor St
Ludlow, MA
Bowties and Butterflies Event Planning
(413) 313-2579
PO Box 1783
Westfield, MA
Weddings by a King
(413) 478-9574
Westfield, MA
Cost
$$
Data Provided By:
Data Provided By:
Wording invitations for events, weddings, and all other parties - Part 3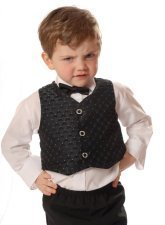 Are Kids Included?
Another potentially sticky situation involves who's invited and who's not. Although problems can surround inviting guests of any age, the most common situations involve children.
At some affairs, especially those held during the daytime, the presence of children can be welcome and positively delightful. As the afternoon turns into evening or even late night, however, young kids who have been up and running around all day can become tired and cranky. The obvious result: hassles for their parents and headaches for almost everyone else.
Some hosts believe that having all little ones at family celebrations is a given, regardless of the hour or circumstances. Others would rather have their friends and relatives leave young children at home. The choice is totally personal; informing others about that choice can be problematic.
The names on the envelope
In general, the experts agree, the names written on the envelope should be considered the indicator of who is and who isn't invited. Problems arise, however, when parents don't get it. Or don't want to.
If an adults-only wedding reception is planned, for example, Stovall suggests adding a line to the bottom of the response card (again, not on the invitation) that reads "No Children, Please," in small type. "Don't make it wordy because that brings attention to the situation," she says. Other experts agree that it's OK to write "Adults Only" on the response card.
A compromise solution is to inv...
Click here to read the rest of this article from Celebrate with Style
Wording invitations for events, weddings, and all other parties- Part 1
While invitations are designed to simply convey the event, time, and place, sometimes, choosing the right words for invitations can be anything but simple.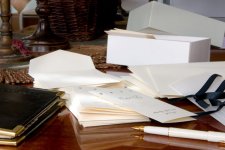 Here, from experts, are ways to handle three common invitation wording challenges - situations in which you:
Are dealing with strained family relationships;
Want to indicate "No gifts;" and
Would prefer that friends and family members left young kids at home.
Baylor Stovall, owner of the Stovall Collection, a chain of high-end stationery and gift stores in Mississippi and Tennessee, counsels individuals on how to properly craft the wording of wedding invitations.
Stovall herself had to squirm through one of the top invitation sticky situations when she got married 10 years ago. "I lived in a small town and my parents were going through a divorce," she says.
Stovall points out that if she had worded the invitation to suggest that her mother and father were giving her away, "people would have assumed they were still together. But if I had put my mother's name on the top line and my father's name on the next line, as etiquette suggests, it would have read like a divorce announcement."
Ultimately, Stovall chose to delete the parents' line altogether. She decided to display the family's crest, which she felt honored everyone. The invitation read:
The pleasure of your company is requested
At the marriage of
Baylor Irene Ledbetter to William Howard Stovall, IV
Most experts concur that in trick...
Click here to read the rest of this article from Celebrate with Style
Wording invitations for events, weddings, and all other parties- Part 2
Wedding-invitation quandries
"Etiquette is intended to be a guide to good taste," explains Megan Kuntze, senior marketing manager for Crane & Co., a Dalton, Massachusetts, fine stationery company. "But it also is meant to facilitate good relationships and to help everyone feel comfortable. You should never adhere to etiquette at the cost of damaging a relationship," she emphasizes.
Here's a rundown of some of today's most common wedding-related sticky situations and suggestions from the pros on how to handle them:
Divorced parents - In the case of divorce, the rules of etiquette recommend that the bride's mother's name appear on the first line and the bride's father's name on the second. If both parents are remarried, "we suggest the bride include the names of the new spouses," says Stovall. However, she quickly adds, if the remarriages have resulted in strained relations, it's probably better to not include the names of parents' new spouses.

Another alternative, Kuntze suggests, is to include the names of a father's new wife or a mother's new husband on the reception card. That conveys that the family is acting as a unit in inviting guests to celebrate this union.

Acknowledging who's picking up the tab - Wedding invitations aren't the place to showcase who is paying the bills, says Kuntze. Traditionally it's the bride's parents who are "giving away" their daughter, regardless of whether the groom's parents, the bride and groom, or a divorced dad is the financier of the festivities.

If the groom's parents are paying, Stovall suggests putting both sets of parents' names on the invitation. "Even if someone else is paying," she says, "it's important to respect the bride's parents. I'd still put the bride's parents first." And regardless of who is paying, if eliminating the groom's parents' names on the invitation makes anyone uncomfortable, it's okay to compromise, says Stovall.

If the bride and groom are throwing their own wedding, Kuntze suggests wording the invitation this way:

Together with their families
[bride and groom's names]
request the pleasure of your company

Another alternative is to word the reception card to say
[Mr. and Mrs. Whoever]
request the pleasure of your company
at the marriage reception.

"That clearly shows they are hosting the celebration," says Kuntz
What about gifts?
Certain circumstances prompt party hosts to address the issue of gifts, even though doing so has traditionally been ...
Click here to read the rest of this article from Celebrate with Style